Description
Due to the high demand, please contact us for availability and current production lead times.
We have now added to the option to pay deposit of £500, we will contact you to discuss the current lead time.
We have been manufacturing Hydrobaths ourselves since 2018 to ensure consistent quality, reliability and availability, we have introduced many new features and made significant improvements with more developments planned.  New Features – Higher floor level, Higher back, Quieter, Self priming pump, All metal shower hose and water connector fittings, Supplied with 2 door sizes, lower door to save bending & struggling, compact variable flow control shower hose, all interior pipework fittings are manufactured with high quality commercial fixings, new, more robust chequerplate floor design, Custom colour available – We can colour the exterior of your hydrobath whichever colour desired. IMPORTANT – (SALON USE) CE Conformity regulations – From 20th April 2016, UK legislation now requires ALL electrical products for commercial & domestic use MUST be CE certified to meet the health & safety directive, a certificate is supplied which displays test report ID. The Hydrobath pro Ultra has been designed to satisfy the Fluid Category 5 backflow protection as per the Water Supply (Water Fittings) Regulations 1999 for direct connection to the water supply.  This product has an 'AB' air gap arrangement (backflow protection to Fluid Category 5)  Hydrobath Pro ULTRA • Ideal for commercial use, busy groomers and large breed show kennels. • Size 1300 (W) x 720 (D) x 1150 (h). Bath Floor Height 710mm • Approx only 15ml of shampoo is required per bath • Built in pump and heater so no hot water supply required. • Slide out door (2 sizes supplied) • Metal Hose water inlet fitting. • Braided Shower hose to prevent kinks. • Twin Tank, 1 x 30 litre for shampoo tank, 1 x 55 litre for clean rinse water (can switch between tanks). • Auto-fill – No need to manually refill the tank, auto-fill keeps it topped up when water level drops. • Auto heater safety cut out. • External drainage tap. • Twin filtering. • Full easy to ollow instructions. • 2.4kw heating element monitors water temp with safety cut out to prevent possible overheating, externally fitted for easy access. Please Note – Hydrobath picture is shown with castors, these are an optional extra and not supplied with the hydrobath. Water Meters If you are on a water meter you can estimate your usage more accurately to compare with your bill! Export We can arrange export to most EU countries, please contact us for further information.
Due to high demand, please contact us for availability and current production lead times.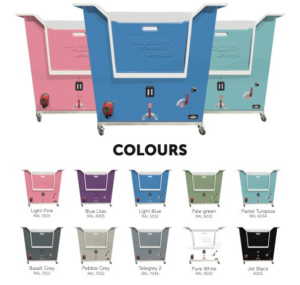 In hard water areas limescale build-up can damage the heating element on your Hydrobath and greatly reduce its efficiency and potentially result in a new element being required. Limescale can flake off and get into the pump system of your Hydrobath and add further damage to its operation.
IMPORTANT – For excessively hard water areas a water softening or an inhibitor solution may be required, we strongly recommend testing your water for hardness prior to deciding which solution is required. Free testing strips are available from https://www.brita.co.uk/how-hard-is-your-water?gclid=Cj0KCQiAnuGNBhCPARIsACbnLzp2jelgcbjVrqLArIoVwte8yhQ7YrxxXB8OlO2XuUoaX8kFlmVtXEgaAsEtEALw_wcB&gclsrc=aw.ds Element damage caused by limescale damage is not covered under.